Volume Concrete offers New Concrete Jumbo Bin Blocks for Sale. These concrete blocks measure 2'x2'x6′ with an interlocking V-Shape on four sides. Wood grained on one side and smooth on the other.
These Jumbo Bin Blocks weigh ~3500lbs. and contain nearly a cubic yard of concrete that exceeds 3000p.s.i.
Volume Concrete has invested in American Made Steel reusable forms for the manufacturing of the new bin blocks. The eyelet for lifting is made on-site with our hydraulic bending table to ensure quality and enduring strength is found in the 5/8″ steel.
Great for Parking Lot Barriers
Metal Fencing Braces
Footing and Anchors
Bank Stabilization
Walls
Traffic Barriers
Storage Made Easy
Flood Protection Walls
Sea Wall Reinforcement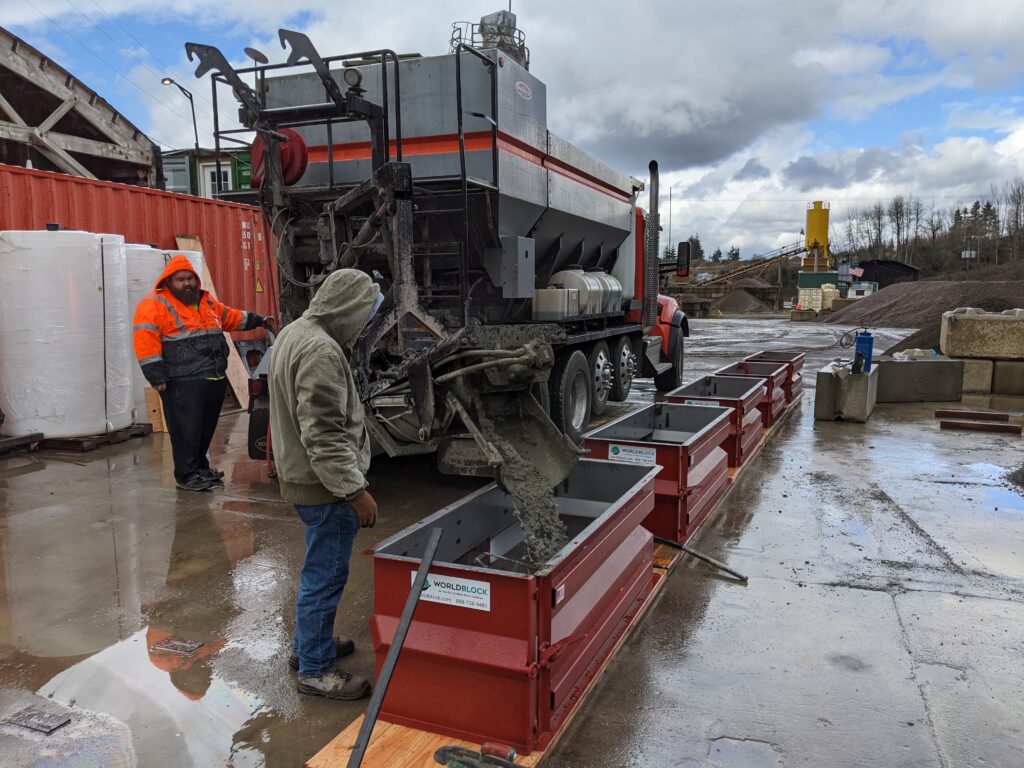 These are NEW and purposely made using concrete mixed on-site, VIBRATED, and finished exceeding all industry standards with a perfect Water-to-Cement ratio of .35 (these are not watered down). A vast majority of these bin blocks on the marketplace are made from concrete that has been sent back to the batch plant when a customer orders too much, resulting in a poor quality CHEAP bin blocks. We don't sell cheap quality bin blocks!

-Volume Concrete
Referred to as: interlocking concrete blocks, large concrete blocks, concrete barrier blocks, barrier blocks, interlocking V-blocks, ecology blocks, large retaining wall blocks, self-building concrete blocks, ecology blocks, storage blocks, waste blocks, mafia blocks, or jumbo concrete blocks,